In this blog we report on the Commission's Cost of Living project, outlining the purpose of the project, the groups and organisations the Commission has visited, and the impact the cost of living crisis is having on communities and the organisations that are supporting them.
In the video below, you can watch our Deputy Chair, Professor Morag Treanor, speaking to the Scottish Parliament Social Justice and Social Security Committee about the Commission's cost of living visits.
As part of the Commission's 2022-23 work plan, Commissioners have been visiting community-based, grassroots and service delivery organisations and projects, and discussing the cost of living crisis. One of the Commission's key principles is to 'be visible, accessible and available', and Commissioners want to hear directly from groups, organisations and practitioners working in local communities across Scotland. They want to understand the challenges organisations are facing, how the cost of living crisis is affecting different people they support, and to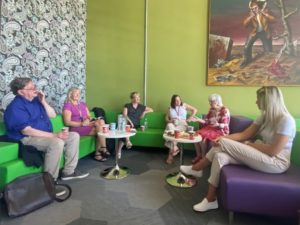 identify examples of approaches organisations and groups are taking in responding to the crisis.
One of the Commission's strategic priorities is to 'ensure that reducing poverty and inequality is central to policy making and delivery in Scotland' and so the Commission is using the information it is gathering to develop quarterly briefings to Scottish Government, informing it of the key issues facing organisations and communities.
Visits
So far Commissioners and members of our Experts by Experience Panel have visited nine community-based and grassroots organisations across Scotland between June and August 2022. The Cabinet Secretary for Social Justice, Housing and Local Government attended one of the visits along with Commissioners. This visit took place at Stepping Stones for Families which works alongside children, young people and families to give them support, opportunities and a voice in tackling the effects of poverty and disadvantage in their lives.
Other organisations that Commissioners have spoken to so far are:
Home Start, Aberdeen – A family support charity based in Aberdeen. Every year they provide practical and emotional support to around 200 families with young children in Aberdeen.
 Govan Pantry, Govan Home and Education Link Project, Glasgow – The Govan Pantry is a subsidised community shop that helps families to shop smarter and budget better, providing access to food and other essential items at a reduced cost. Govan Home and Education Link Project supports vulnerable children, parents and families across the Govan area.
MORE, Glasgow – MORE (Migrants Organising for Rights & Empowerment) is a group of migrants and members of the community campaigning for the right to work, study, good housing and to be treated with dignity.
Front Lounge Ltd, Dundee – Front Lounge is a social empowerment organisation based in Dundee, Scotland. Their programmes address social issues, in particular those issues faced by care experienced young people, young parents, those with mental health challenges, and those unknown, forgotten and often ignored voices living on the margins in the communities they serve.
Women's Business Station, Dundee – Women's Business Station exists to make starting and staying in business possible and accessible to women regardless of their economic status or background. Their mission is to support the socio-economic empowerment of 10k women by 2030.
Dundee Fighting for Fairness (DFFF), Dundee – DFFF is a small collective of Dundonians with various life experiences, networks, and influences that is striving to be a voice for people facing poverty and inequality in Dundee. DFFF acts as a bridge between the community and the 'powers that be'. Through their experiences and expertise, they work to change and influence policies that are unfair to the most vulnerable and marginalised in our city.
Skye and Localsh Foodbank, Skye and Lochalsh – Skye and Lochalsh Foodbank is an independent voluntary group that collects and distributes food and toiletries donated by members of the community covering Skye and Lochalsh.
Key Issues
Here we summarise some of the key issues that the organisations, groups and practitioners have highlighted over the last three months.
Demand for services is rising
"People who are on the financial margins and working poor is what we are seeing more of. Those whose income might be just £10 above the benefits levels. They are the ones we are seeing more of."
Community Organisation
Most of the organisations we spoke to described an increase in demand for their services, both in response to the cost of living crisis and those resulting from the pandemic. Some organisations reported a change in the profile of people coming to them, with more people who were experiencing in-work poverty and whose income was just marginally above the level where they would be eligible for benefits.
 In light of this, resource is a significant concern for most organisations. Nearly all the organisations raised the issue of funding in the light of rising energy costs and other operational costs.
Household Daily Costs
Household costs for energy, food, transport and household debt were a big concern for organisations, with households they support struggling to pay energy bills and buy food.
Food Costs
One organisation said that people who used their service were skipping meals and not using cooking facilities due to fear of the costs.
'People are not using cooking facilities due to fear of the cost of them  – food preferences have changed as a result, e.g. pot noodles that they only need to boil the kettle for.'
Community Organisation
One project reported seeing more hunger amongst children, while another said that it was having to divert a larger part of its budget into feeding people who came in for the groups it was running.
Energy costs
Energy costs are causing problems for many families and we heard from organisations that some people were planning to stop their direct debits in October (after the next price cap rise) and risking being cut off. People were already using Calor gas camping stoves and heaters because they could not afford gas or electricity from the grid. This was causing condensation and risk of fire.
Debt
Debt, particularly Council Tax debt, was another significant issue highlighted by some organisations. One organisation said that much of this debt had accumulated during the pandemic and said that there was a need to reform council tax debt recovery and to begin treating people with dignity and respect when pursing arrears.
Transport costs
Rising petrol costs were highlighted by many organisations, particularly those based in rural areas. One organisation noted that this was impacting on the ability of some people to stay in work where they commute to get employment, while another commented that petrol and public transport costs were making it unaffordable for people to travel to the food bank to pick up supplies. Transport costs were also having an impact on the ability of people to volunteer in community-based organisations and services.
 Mental Health
'Mental health is being impacted negatively by the stress and worry about the increases in costs that families are unable to meet.'
Community Organisation
From our visits we can see that the cost of living crisis is clearly becoming a mental health crisis. A number of organisations highlighted the impact of first the pandemic, and now the cost of living crisis, on mental health and said that this was another issue that they were now dealing with.
Next Steps
The Commission's cost of living project will run at least until March 2023, and Commissioners and Panel members will continue visits to groups and organisations across Scotland.
Insights from our Experts by Experience Panel echo many of the issues that organisations and groups have raised over the last three months. The Panel will continue to support the cost of living project and to shape and inform the Commission's response to the cost of living crisis.
The Commission has provided a briefing to Scottish Government to share information and learning on the evolving nature of the crisis. The briefing provides further details on the key issues highlighted in this blog and also includes insights from discussions on the cost of living with our Experts by Experience Panel. You can read our first briefing to Scottish Government here.
If your organisation or group supports communities affected by the cost of living crisis, and you would like to meet with the Commission between November 2022 and March 2023, please get in touch at info@povertyinequality.scot.